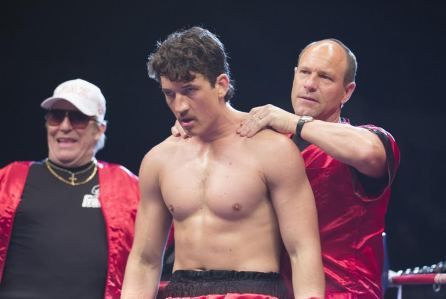 See the original article at Deadline Written By Patrick Hipes.
Miles Teller Boxing Pic 'Bleed For This' set for November Bow.
Open Road Films has set a November 4 limited release for Bleed For This, the biopic of boxer Vinny Pazienza that stars Miles Teller. After the platform bow the pic from writer-director Ben Younger will expand to wide release on November 23. That puts it in that fall corridor where distributors put movies they feel will be knockouts during awards season. If the pattern sounds familiar it should: Open Road had the same rollout last year for Spotlight, which went on to win the Best Picture Oscar.
Bleed For This tells the true story Vinny "The Pazmanian Devil" Pazienza (Teller), who shot to stardom after winning two world title fights. After a near-fatal car accident left him with a severed spine, doctors told him he may never walk again. But with the help of trainer Kevin Rooney (Aaron Eckhart), Pazienza not only walked again but returned to the ring to reclaim his title belt only a year after the accident. Katey Sagal, Ted Levine, Ciaran Hinds, Jordan Gelber and Amanda Clayton co-star.
The November 4 date is starting to fill up, with Disney/Marvel's Doctor Strange and DreamWorks Animation's Trolls already staked out, as is Focus Features' Cannes picLoving and Warner Bros' comedy Bastards. The November 23 date now holds Paramount's Brad Pitt-Marion Cotillard pic Allied, Broad Green's Bad Santa 2, Disney's animated Moana and The Weinstein Company's platform bow Lion.
Another boxing pic that should have punching power, the Weinsteins' Roberto Duran biopic Hands Of Stone with Robert De Niro, will play Cannes before its August 26 theatrical release.
Bruce Cohen, Emma Tillinger Koskoff, Chad A. Verdi, Noah Kraft, Younger and Pamela Thur are producing Bleed For This. Martin Scorsese, Joshua Sason, Michelle Verdi, Myles Nestel and Lisa Wilson are executive producing.